Virtual Miles That Matter Pikesville 5K Run/Walk
November 6, 2020

-

November 9, 2020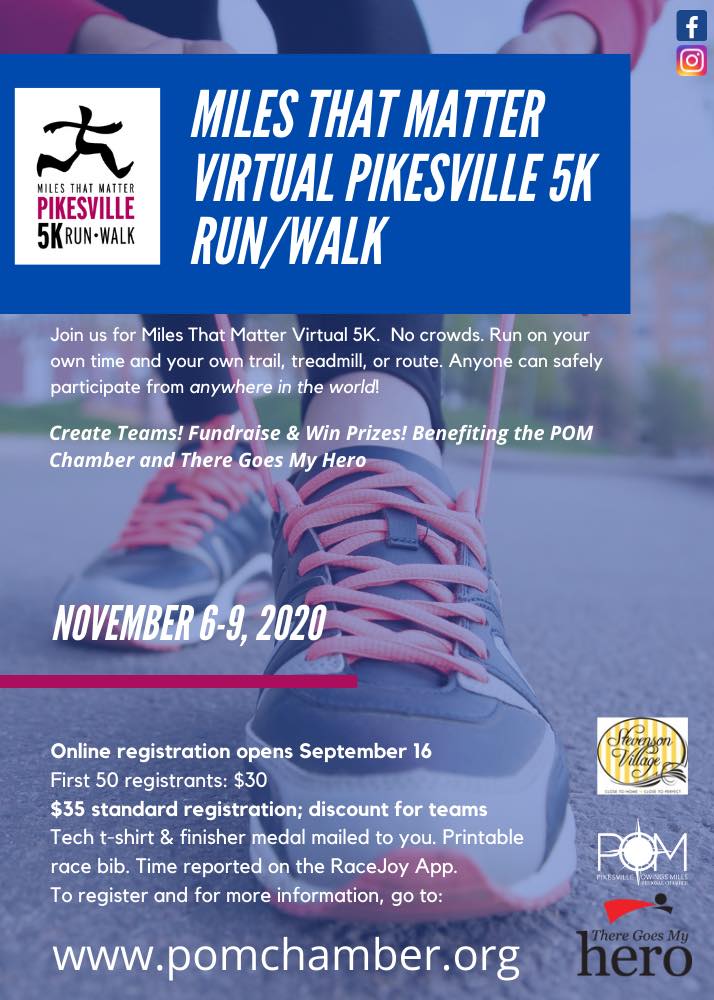 Hundreds of runners and volunteers take part annually in the Pikesville 5K, traditionally held at Woodholme Center in the heart of Pikesville.
This year the Miles That Matter Pikesville 5K is VIRTUAL. This virtual event is designed to inspire you to run in honor of our local heroes while having fun with your friends and family from anywhere in the world!
Join us for Miles That Matter, November 6th to the 9th. The event will take place over 4 days to give you the flexibility to complete your run or walk, with enough time to submit your results. You can complete the event inside on a treadmill or outside on a course of your choosing.
The Miles That Matter Pikesville 5K encompasses all that we do as a community to support one another. This year, that includes honoring our local heroes for their sacrifices in keeping us safe and healthy during a global pandemic. While we won't all be running together, the Miles That Matter Virtual Pikesville 5K makes it possible for anyone in the world-family, friend, running partner-to complete a 5K with you. You will be asked during registration for your location, which will be displayed with your results. You can even get creative with a virtual location! Start inviting others to join you on your Miles That Matter! Let's see how far we can spread our gratitude for our heroes across Pikesville, Maryland, the country, and the globe.
In alignment with our mission to support our community, the POM Chamber is donating a portion of the proceeds from this race to There Goes My Hero, a 501(c)(3) that helps those impacted by blood cancer.
Sponsorships are tax-deductible and have the potential to reach thousands! For information on sponsorships, visit www.pomchamber.org and click the 5K button.
ENTRY FEES
Early Bird Registration: $30 (first 50 registrants)
Standard Registration: $35 (through Oct 15th)
Later Registration: $40 (Oct 16th- Oct 31st)
Teams: $5 discount per registrant (only available after the Early Bird registration)
Kids Registration: $25 – Ages 12 and under (includes a cotton t-shirt) – discount will be applied at check-out
REFERRAL PROGRAM
Want to run for free? With our referral program you can have your registration fee refunded!
Here is how it works:
1. Register online for the Miles That Matter Pikesville 5K.
2. Receive a unique referral link via your confirmation page and email.
3. Share this link with your friends, family or post on social media.
4. After 5 registrants sign up using your unique referral link you will automatically receive a refund of your registration fee.
RAFFLE
The following items will be raffled off to race participants:
ALOR sterling silver necklace with a round blue topaz pendant. (Retail: $150.00) from Radcliffe Jewelers
Bottle of CBD Oil from Max & Steven's
2 $50 gift cards from J.S. Edwards
AWARDS
Top three overall male and female
Top male and female overall master (40 and over)
Top male and female in the following age groups:
19 & under
20-29
30-39
40-49
50-59
60-69
70+