Family Volunteer Day Coming Up On November 21st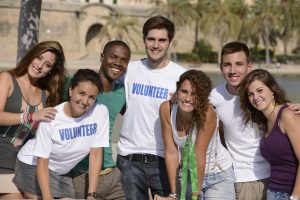 Over the years, Family Volunteer Day has become a worldwide experience with a rich history. You could say that volunteering has become a national value. Volunteering is not only fun to do individually, but also with the entire family!
When your family volunteers together, you're not only impacting the community but building that bond with each other. Volunteering is filled with teachable moments and provides a way to fulfill requirements as well as developing leadership skills!
This month, the Saturday before Thanksgiving, on November 21st is National Family Volunteer Day! It is a great day to enjoy the benefits of family volunteering. Hero as well as other organizations have numerous opportunities for you and your family to be able to safely serve this year!
Hero is always looking for volunteers to help find heroes at the bone marrow registry drives and to help educate the public about the need for bone marrow donors. You know someone that needs a match or want to host a registry drive in honor of someone? Your family could also host a bone marrow drive! Want to be a hero? Request a swab kit from DKMS and save someone's life this holiday! You could also be a hero by joining our monthly giving program, giving donations, and helping at our Color the Registry drives.
Family volunteering seems like a great holiday tradition to start or continue. Hero, as well as other organizations, can connect you to family-oriented opportunities. There are tons of options out there to choose from like volunteering at soup kitchens, cleaning up your neighborhood, or even helping pack lunches for the homeless.
What a great way to kick off the holiday season with giving and service! Safely continue to give back to the world with your families this season. 'Tis the season to give!
If you would like to learn more about Family Volunteer Day, would like to volunteer, or would like to join the registry, please contact There Goes My Hero at 443-339-4375 or email us at charis.taylor@theregoesmyhero.org.