It's Nurse Appreciation Week! At There Goes My Hero, we know that nurses are a vital part of the team when you're going through treatment for any type of cancer. Many of our board members and staff have personal experiences with cancer, so we asked them for stories about why nurses are so special. Here are five reasons why we love nurses.
They know that being in the hospital is hard.
"I happened to be in the oncology ward on Halloween, and even though I was way too old to trick or treat, my nurses left some candy and treats on my pillow when I was up for a walk. Nurses know that being inpatient means that you are away from your family and routine, and the nurses at West Virginia University hospital always tried to make my weeks-long stay feel more like home." — Kristina Gaddy, Marketing and Communications Manager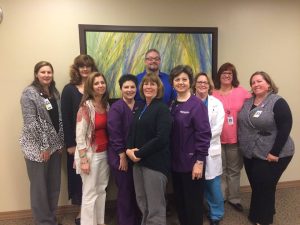 Nurses are the centerpiece of our healthcare system.
"I managed hospitals for 40+ years and we were able to provide the highest level of care because of the professionalism  and skills that nurses provide. On a personal note, I coded twice during my two years of cancer treatment and it's because of the expertise and timely intervention of nurses that I'm alive today." — Jim Xinis, Board Member and former President and CEO of Calvert Memorial Hospital
They're willing to bend the rules to make patients happy.
"I had amazing nurses during my treatment. They would always do whatever they could to make me feel comfortable even though I was in a lot of pain.  I had a lot of visitors, especially in the beginning. The nurses knew that it made me happy to have friends visiting, so they'd often look the other way when I had exceeded the visitor limit in my room." — Michele Bresnick Walsh, Board President and Attorney, Gordon Feinblatt LLC

They go above and beyond.
"My brother in law is 50 and living in a nursing home. Every Friday night after his shift ends, John's nurse brings him pizza and hangs out playing video games." — Gina Ramsey, Board Member and Director of New Product Development, Adventure Web Productions
Nurses are patient advocates.
"If it weren't for my nurse Fran, I would have missed my son's Christening. My son Joey was born a week after I was diagnosed with leukemia in the summer of 2008 and we had a difficult timing scheduling his Christening because I was hospitalized on and off so often. We thought we found a good date in September 2008; I was between treatment and relatively stable. A week before the Christening I had to be hospitalized for an infection and high fevers. We had rescheduled the Christening so many times, that we decided the show had to go on, whether I could make it or not. As the day got closer, my nurse lobbied my doctors to let me go, and reluctantly, they agreed." — Erik Sauer, Founder of There Goes My Hero