Letter from the Chairman, Winter 2016
Letter from the Founder and Chairman of the Board, Erik Sauer
Dear supporters,
It's been seven years since I started thinking about creating a foundation that would do for other leukemia patients what my family and friends did for me. A year after my transplant, I considered myself so lucky that saying "Thank you" seemed like too little.
I envisioned the There Goes My Hero Foundation as a bigger thank you, as an organization that would do great things and would inspire others to do the same. In the last seven years, everyone who has supported this idea — board members, volunteers, donors, swabbers, and sponsors — have truly been Heroes to me and all the patients and families we've served.
We do a lot for our size, and have the potential to do so much more. This year, we are going to grow and spread more awareness. We are forming new relationships and serving more patients in need. We are changing and shifting our events and event structure. We want to make the most out of our size, our relationships, and our events so that we can grow. You've probably heard a lot about that lately from us, but I see such a great potential for helping more people that we just can't stop now.
Thank you for being a hero,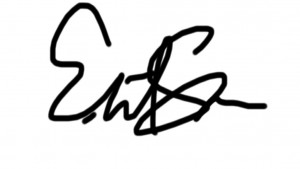 Erik Sauer
Founder, Chairman of the Board