Meet the Alphas: There Goes My Hero's New Partners for Color the Registry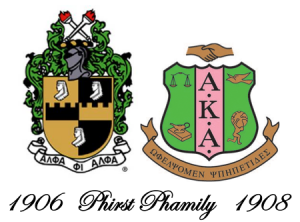 There Goes My Hero is proud to announce our partnership with Alpha Phi Alpha Fraternity, Inc. and Alpha Kappa Alpha Sorority, Inc. to launch our Color the Registry initiative!
For those who may not be familiar with the program, Color the Registry is our campaign to help ensure that minority blood cancer patients who require a bone marrow transplant can find a match on the bone marrow registry. The odds of an African-American blood cancer patient finding a match for a lifesaving bone marrow transplant is about 25%, while the odds for a patient of European descent is about 75%. The odds of a match for patients of Asian and Hispanic descent is also significantly low. Since matching patients with a donor is often ethnicity or ancestry-based, the single most effective way to combat this disparity on the bone marrow registry is by registering potential donors who reflect the broad ancestry of patients. Representation alone can drastically improve the odds of finding a successful match.  
Founded in 1906, Alpha Phi Alpha Fraternity, Inc. is the oldest historically-black fraternity in the country. Also joining the partnership is Alpha Kappa Alpha Sorority Inc., a historically-black sorority that, like APA, has a long legacy. It was founded in 1908 by students of Howard University with a focus on public service. These two Greek organizations' social programs and philanthropy have benefited a multitude of people and organizations both nationally and throughout Baltimore. The Howard County Chapters of Alpha Phi Alpha and Alpha Kappa Alpha have joined Hero to help expand awareness about the need for diversity on the bone marrow registry, and to add more potential donors to the registry. In this way, the AKA/APA/Hero partnership will better the survival odds for patients of color as together we work to one day have a match for any patient who needs one. 
Two critical indicators of Color the Registry's success will be the number of donors of color added to the bone marrow registry within twelve months, and the number of people educated within that same timeframe. APA's Howard County Chapter, Kappa Phi Lambda; AKA's Howard County Chapter, Iota Kappa Lambda; and There Goes My Hero hope to add 600 new donors of color and educate over 1,000 people in the next year. It's crucial that people learn about the impact a bone marrow transplant can have in a patient's life. The lifesaving benefits of the process aren't just limited to curing blood cancer, though. In fact, a bone marrow transplant can also cure certain types of anemia and recently became the only known cure for Sickle cell disease (SCD), which affects 1 in 365 African-American children. 
In addition to these goals, as we emphasize the need for diverse communities to join the bone marrow registry we also want to dispel misinformation surrounding bone marrow registration and transplantation. This includes making it clear to people that their personal information cannot and will not be used for any purposes other than finding a match.
Some of the biggest deterrents for people considering joining the registry are questions about confidentiality. As Hero, AKA, and APA sign donors up we want to assure them of these guarantees: that their personal information will be used only to locate a match, that it will not be sold, and that there are procedures in place to make sure that their information remains secure.
The AKA/APA/Hero partnership will kick off at the B'more Healthy Expo, which takes place on Saturday, March 7th at the Baltimore Convention Center from 10:00am-4:00pm. The B'more Healthy Expo is sponsored by FOX45, which has invited us back this year and has generously supported TGMH at past events. There Goes My Hero staff and APA's Kappa Phi Lambda brothers, also known as the Alphas, will be running a booth with a bone marrow drive in the hopes of adding a great number of people to the bone marrow registry. Given B'more Healthy Expo's enormous turnout in the past (last year over 15,000 attended), we're expecting great things! 
Over the course of this year, the AKA/APA/Hero partnership aims to continue to collaborate at events, educate the public, and expand efforts to forge new partnerships within the community. This Saturday marks the first of many positive future endeavors as There Goes My Hero, Alpha Kappa Alpha Sorority, and Alpha Phi Alpha Fraternity team up to save lives, provide hope, and help those affected by blood cancer.