4 Useful Apps for Blood Cancer Patients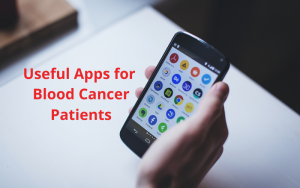 As the saying goes: "There's an app for that." In addition to playing games in the waiting room, your smartphone offers a variety of different apps to help blood cancer patients through their diagnosis and treatment. These apps serve to help blood cancer patients by making managing daily tasks easier.
CareZone
CareZone is a free smartphone application that offers a variety of features to help blood cancer patients and their families stay in sync when it comes to care management.
Between treatments, appointments, medications, and day-to-day activities, blood cancer patients can be overwhelmed with the sudden amount of responsibility on their hands. CareZone can help patients stay organized through the use of calendars, notes, and to-do lists. These organizational tools are crucial for remembering appointments, sharing information, documenting symptoms, and tracking overall progress.
CareZone also offers a simplified medication management approach. By uploading prescriptions, dosages, and schedules, patients can receive daily reminders when it is time to take medications. Patients are also reminded when it is time to refill prescriptions.
LivingWith: Cancer Support
LivingWith offers blood cancer patients a simple way to communicate with family, friends, and members of their care team. A supportive network of loved ones is crucial for blood cancer patients during treatment.
The platform allows patients to invite family members and friends to join the app. Once connected on the app, patients can then request help with daily tasks, including meal prep, transportation, or other support services.
In addition to communication, LivingWith also offers blood cancer patients record-keeping and tracking features. Treatment varies widely depending on the patient, which means some patients attend daily appointments while others might only see their doctor on a monthly basis. No matter the treatment schedule, it is important for patients to record their questions, sleep, and pain levels between visits. The app encourages patients to keep all their information and notes in one place, which can help to improve communication with doctors and support personnel.
Focus On Lymphoma
Focus On Lymphoma has three main purposes: provide unlimited access to information about lymphoma, health care tools, and patient resources. The "Learn" section provides blood cancer patients with the latest lymphoma treatments and clinical trials, while the "Connect" section links patients with support programs and networks. Similar to CareZone and LivingWith, Focus On Lymphoma also offers a variety of tools to stay organized post-diagnosis.
LLS Health Manager
After a blood cancer diagnosis, individuals can feel like they are no longer in control of their life. The LLS Health Manager is a free smartphone app that is designed to help patients with leukemia, lymphoma, and myeloma take back control of their life and health.
The app provides helpful resources to help patients find recipes, plan meals, create grocery lists, and determine accurate serving sizes. Patients can accurately record their food and water intake in order to analyze related side effects. This also allows patients to ensure they are properly nurturing their bodies when treatments cause a decreased appetite.
If you would like to learn more about helpful apps for blood cancer patients, or need additional resources, please contact There Goes My Hero at 443-339-4375 or email us at stephanie.cupp@theregoesmyhero.org.