COVID-19 Causes Serious Decline of Potential Donors on Bone Marrow Registry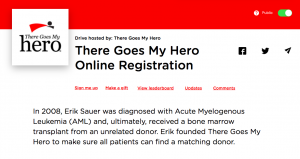 For Immediate Release
April 30, 2020
Contact: Stephanie Cupp, Community Outreach Coordinator
stephanie.cupp@theregoesmyhero.org
COVID-19 CAUSES SERIOUS DECLINE OF POTENTIAL DONORS ON BONE MARROW REGISTRY
[Baltimore, MD]  April 30, 2020 – There Goes My Hero, a local nonprofit organization, is hosting virtual bone marrow registry drives to continue to recruit potential donors. During normal times, the nonprofit conducts drives in large settings. Now it is mailing a swab kit to individuals willing to see if they can be a potential match for someone suffering from a blood disease or blood disorder.
So far, There Goes My Hero has had to cancel or postpone over a dozen in-person drives which has resulted in an estimated 400 fewer bone marrow donors joining the registry. Every missed registration means there is one less chance for a blood cancer patient in need to find their lifesaving match.
For many patients suffering from blood cancers and blood disorders, a bone marrow transplant is the best chance for survival. While some patients are able to find a matching donor within their family, 70% of patients rely on the bone marrow registry to find their perfect match. However, because the registry lacks diversity, patients of African, Latin, and Asian descent have a harder time finding a matching donor. While patients of European descent have a 79% chance of finding a match, 75% of African American patients cannot find a donor.
Now, blood cancer patients are fighting an all-new battle: trying to find a life-saving match in the middle of a global pandemic. Chemotherapy and other treatments leave blood cancer patients with compromised immune systems. This means finding a life-saving bone marrow donor is more critical than ever. 
There Goes My Hero, in partnership with DKMS, hosts in-person bone marrow registry drives throughout the greater Baltimore area at corporate offices, places of worship, high schools, colleges, and community organizations. For the past month, in-person registry drives have not been possible given the current global pandemic. 
####
About There Goes My Hero: There Goes My Hero was founded by Erik Sauer, whose own fight with leukemia led him to want to help others. Today, Hero partners with DKMS to add potential lifesavers to the National Bone Marrow Registry, and with the Sidney Kimmel Comprehensive Cancer Center to provide support services to blood cancer patients and their families throughout treatment. Each year, 14,000 patients rely on the generous donations of complete strangers, but 6 out of 10 patients still cannot find a match on the registry. It takes less than 10 minutes to become a potential Hero, and the process is quick and painless. For more information, please visit www.theregoesmyhero.org.