Hero's 2021 Year In Recap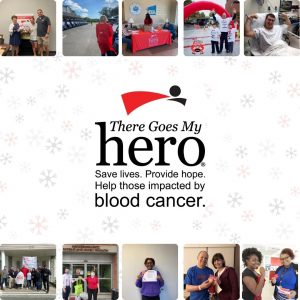 As 2021 comes to a close, There Goes My Hero thought it would be exciting to take the time to share everything that we were able to accomplish this past year thanks to the amazing generosity and support from our Hero community. 
2021 was a difficult year for everyone, but Hero was able to make the best of it. In 2021, Hero was able to begin working on our Color The Registry initiative, which is a Hero effort dedicated to diversifying the national bone marrow registry so that patients in need of a bone marrow transplant have a better opportunity of finding their life saving match. We were able to lay the groundwork in 2021, and plan to mobilize the campaign in 2022. Think of 2021 as our soft launch! We would like to extend a special thank you to the Qlarant Foundation, the Pomeroy Foundation,  CareFirst BlueCross Blueshield, and Alpha Phi Alpha, who have all been amazing community partners and supported our Color The Registry program. 
2021 allowed us to further grow our relationships with Andrew's Laughing Gas, a non-profit organization in the Baltimore area dedicated to making cancer warriors laugh, one toot at a time, and with The Greater Baltimore Chamber of Commerce, an organization dedicated to building a better Baltimore, and Hackerman-Patz House, which provides temporary short term housing for cancer patients and their caregivers.
We welcomed Precious as Hero's new Americorp Volunteer Coordinator to the team, as well as Elena, who is Hero's new Community Outreach Coordinator. Hero was also able to vote in a new member to our board of directors, Lindsey Ledwin. Lindsey is a blood cancer survivor, and a former temporary resident at the Hackerman-Patz House. Lindsey lives in Arlington, VA, where she helps us reach further out into the greater metro area! 
We were able to bring almost all of our annual events back in person! We were able to host Masterclass, our most successful Bob Bell Charity Golf Tournament to date, HeroPalooza, Winter Boxes of Joy, and Miles That Matter 5K with The Greater Baltimore Chamber of Commerce. We had so much fun finally getting to be together again in the same room, for the same cause of saving lives, providing hope, and helping those impacted by blood cancer. 
Here are some of the stats from 2021…
Hosted 35 bone marrow registry drives

Swabbed 427 people to join the national bone marrow registry

Educated 758 community members on the importance of joining the national bone marrow registry

Raised over $250,000 towards Hero's mission of Saving lives, providing hope, and helping those impacted by blood cancer

Had volunteers provide 135 volunteer hours
Without the help of our amazing Hero community, as well as the Hero board of directors, we would not have been able to do the work we did in 2021. We are forever grateful to our Hero community for being there with us this past year. We can't wait to show you what we have planned for 2022…
If you are interested in hosting a bone marrow registry drive, joining the national bone marrow registry, learning more about blood cancer, volunteering, or partnering with Hero, please email our Community Outreach Coordinator, Elena, at elena.manco@theregoesmyhero.org.
There Goes My Hero wishes you and your family a happy holiday season.