How To Support A Friend With Blood Cancer During COVID-19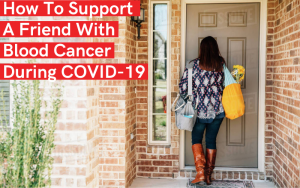 During these changing times, it is important to stay connected with loved ones, especially those battling blood cancer. For many blood cancer patients undergoing treatment, self-isolation and social distancing is nothing new. Chemotherapy and bone marrow transplants leave blood cancer patients with compromised immune systems, which means they have to take extra precautions to avoid infections.
Thankfully, there are a variety of different ways you can support blood cancer patients, even when you can not see them in person.
Talk on the phone.
Nowadays, we have dozens of ways to stay in touch with friends and family members: texting, Facebook Messenger, Zoom, Google Duo, Skype, and Snapchat. In addition to chat features, a majority of these platforms feature video-chatting capabilities, which allow you to talk face-to-face with your friend while remaining hundreds of miles away.
Show your friend that you still care by calling and texting frequently. While it is important to ask how they are feeling and how treatment is going, it is also good to talk about things that will brighten their day. Share funny videos, cute photos of pets, recipes, book recommendations, or TV shows.
Make sure you call at times that work best for your friend and end each call by scheduling your next chat.
Send letters or gifts.
It is always a nice feeling when you receive mail that is not spam or bills. The simplest letter or gift can make a difference in the life of a blood cancer patient.
Send a silly card. Write a letter about the positive things in life, and encourage them to do the same. You can include kids' drawings or meaningful photos.
Or, if you are willing to go the extra mile, order gifts and supplies to be delivered directly to their home. Think of fun indoor activities that might not require too much physical activity or energy. Puzzles, board games, paint-by-numbers, Sudoku, crosswords, or other word games are all great ideas.
Offer to run errands.
Many people want to help others during a difficult time. The best way to support a blood cancer patient is by offering practical solutions and help.
If you are heading to the grocery store for yourself, call your friend and ask if you can pick anything up for them. Or if you are spending the day running errands, ask them if they need anything while you are out, including medicine, cleaning supplies, or toiletries. Running these simple errands means your friend does not have to put their health at risk by leaving home.
Even if you can not help the person battling blood cancer, helping out their caregiver or family members is just as meaningful. Drop off a home-cooked meal, bring flowers, or outdoor toys.
If you would like to learn more about how to support a friend with blood cancer during COVID-19, or need additional resources, please contact There Goes My Hero at 443-339-4375 or email us at stephanie.cupp@theregoesmyhero.org.