What Can I Do To Help A Blood Cancer Patient?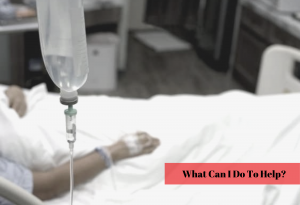 Finding out someone you love has been diagnosed with blood cancer can be difficult. All people react differently to this tragic news, but almost all people respond with the same infamous question: "What can I do to help?" 
We understand this question comes entirely from a place of love and compassion, but the truth is: if you do not know how to help, chances are, the patient doesn't have the answer either. 
Life happens fast after a blood cancer diagnosis – between insurance details, treatment plans, and emotional turmoil, there is little time to think about much else. On the other hand, it is not easy asking for help, or accepting help, even if someone is offering it. 
The best thing to do is be present and supportive of your loved ones. Rather than asking how you can help, take matters into your own hands and find a concrete way to help during a blood cancer diagnosis. 
Host a bone marrow registry drive in their honor. 
For many patients, a bone marrow or stem cell transplant is the best chance for survival, and the chances of finding a match in the patient's family are only 30%. At any given time, there are more than 7,500 Americans actively searching for a bone marrow donor. The only way to improve these statistics is to get more people registered on the bone marrow registry. By hosting your own event, you can make a difference by helping to find a life-saving match for your loved one or another patient in need. 
If you are interested in hosting your own drive in honor of a loved one, There Goes My Hero makes it easy. Once you have a location, date, and time in mind, Hero will provide the rest – including swabbing kits, marketing materials, and online promotion. Plus, our staff and volunteers are always on hand to help run the drive.
Drop off prepared meals to their house. 
Fighting blood cancer is a full-time job, and it can be hard on everyone involved. Bringing prepared meals to loved ones with blood cancer serves as a blessing for both the patient and their family. Healthy meals are not only important to a healthy recovery, but it also takes a heavy burden off the patient's family. Cancer patients can experience feelings of exhaustion and fatigue when going through treatment, so they may not have the energy to cook a full meal. Having a pre-prepared homemade meal ready to eat would bring a little normalcy back to their disrupted lives. 
Transportation to and from the hospital.
During peak times of treatment, blood cancer patients may need to visit the hospital every day of the week. Most of the time, patients are not allowed to drive themselves to doctor's appointment, so they must rely on the family members to get them there. Paying to park at the hospital means paying astronomical parking fees. To offset these costs, it can be helpful to offer to drive the patient and family to and from appointments. This way, the family has one less finance to worry about while still being able to accompany the patient. 
It doesn't take a lot to turn someone's entire day around. When you learn someone you love has been diagnosed with blood cancer, you might feel inclined to offer a grand gesture to show how much you care. But, sometimes, the smallest of gifts can mean the most. If you would like more information about blood cancer, how you can help a blood cancer patient, or interested in hosting a drive, please contact There Goes My Hero at 443-339-4375 or email us at stephanie.cupp@theregoesmyhero.org.