Words of Hope – Let's Shave Our Heads Together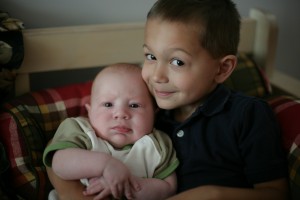 May 27th 2008: I had spent the previous two weeks digesting a leukemia diagnosis with my family, while also adding to the family with the birth of Joseph. Joseph, my red headed wonder boy was born into a "s _ it storm" for lack of a better term. Ian, my oldest, was 4.5 and he and I had shaved our heads together as a pre-emptory strike on the hair, as the chemo was going to make mine fall out anyway.
My life long friend, Lars, had flown in from Denver to be with me and my family as we faced these challenges. Lars shaved our heads on the back porch. My in-laws, Joe and Angie, had been retired and they decided to move in with us and help with Joe Joe, as we called him, and Ian, or Easy E, as I call him. I was going to be out of commission for some time. On May 27th, I entered Hopkins and started on a chemo therapy regimen that night. It was very scary. I was surrounded by friends most of the time. Though I remember the nights being quite surreal and extremely lonely; lots of beeping of monitors, emergencies in other parts of the unit, people passing away. I had a lot of trouble sleeping at night. There was the anxiety, but also the nurses checking my vital signs every three to four hours. That chemo regimen would last 8 days and the hospital stay would encompass 24 days. This was the first of many long hospitalizations.